What is a Butler's Pantry, and Why Do You Need One?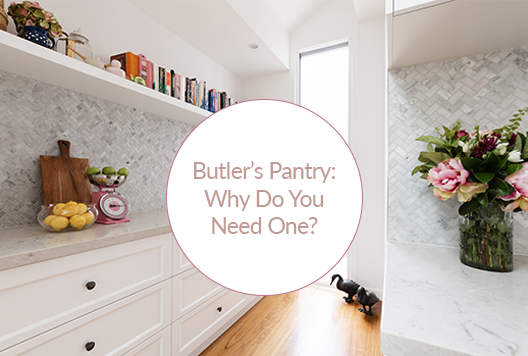 If you're interested in improving both the style and functionality of your kitchen, installing a butler's pantry can be a great option. Not only will doing so expand your available storage space, but it will add a high-end touch to your kitchen that both you and your guests will enjoy. Here are a few things that you need to know if you're interested in installing a butler's pantry, including a few design tips that will meet your precise needs.
What is a Butler's Pantry?
Before we discuss how to build your perfect butler's pantry, it's a good idea to discuss the interesting history of this popular kitchen feature. The main purpose of this pantry has always been storage space. Generally, the pantry was used to store valuable items, such as silver utensils and serving pieces. In some cases, the butler would sleep in the pantry to protect these items, hence the name.
In addition to storage, many butler's pantries have been used to separate the kitchen from the dining room and to serve as a staging area for meals. Once a meal was cooked, the butler would plate the food in the pantry, then serve it to guests.
As open floor plans grew in popularity, these pantries fell somewhat out of favor. Fortunately, they are coming back in vogue and can be an excellent choice for many homeowners, provided they have the necessary space.
Why Do You Need One In Your Life?
If you've never had a butler's pantry in your home before, then you might assume that there's no reason to install one. While this addition can seem like an indulgence, it's actually one of the most useful features you can add to your kitchen, both in terms of storage space and meal preparation.
A butler's pantry is essentially a supersized version of the walk-in pantry. Where many walk-in pantries are nothing more than a small closet, butler's pantries are generally a small room that features cabinets and countertops, meaning you can expand your kitchen storage space tremendously. You can store non-perishable cooking staples in this area, but you can also house items such as teapots, blenders, and even microwaves, thus keeping the clutter off your kitchen countertops.
Perfect for Dinner Parties
Whatever design or materials that you choose for your pantry, you'll have the extra space you need for preparing meals once this room is completed. Butler's pantries provide a dedicated prep space that makes it a lot easier to cook intricate meals without causing a huge mess in your kitchen. In fact, some homeowners choose to design their pantry to include sinks and cooking appliances so that it almost serves as a second kitchen.
If you want to use your pantry for meal prep and serving, there are a few things that you can include. Sinks, obviously are a must for meal prep, and you may also want to incorporate a cutting board into your counters. Also, make sure that you keep plenty of serving trays in your pantry so that you can easily transport food to the kitchen or dining room.
Because this area is used for prep, you want to make sure you have flooring that will stand up to spills and traffic. We particularly like a click-lock vinyl or floating floor. This luxury vinyl is durable, water resistant and easy to install. A white plank looks particularly good in a butler's pantry and kitchen. You can also use a vinyl peel and stick wood flooring.
Adding a butler's pantry to your kitchen can be a great idea, especially if you're trying to make your kitchen more functional. Once your pantry is complete, you'll be able to prepare complex meals with the greatest of ease, making your home the go-to spot for neighborhood dinner parties.
Endless Design Possibilities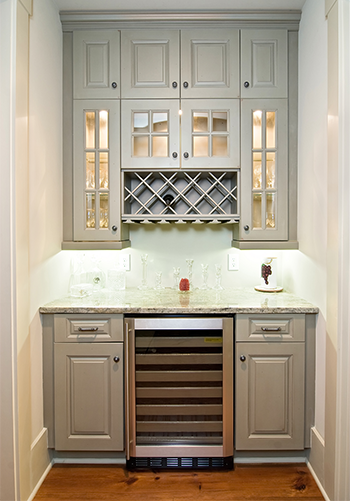 Now that you know some of the reasons why you need a butler's pantry in your home, it's time to start designing your perfect pantry. Like most kitchen features, the design that you choose for your pantry really comes down to your needs and personal preferences. That said, there are a few design ideas that every homeowner should consider when building a pantry.
If your primary goal is to improve your kitchen's storage space, then the best design idea is to add as many storage features to your pantry as possible. Adding roll out shelves can make it easier to access your most-used items, and installing organizers in the drawers will let you separate your silverware pieces so that they stay looking their best.
Butler's pantries should be both functional and attractive. Fortunately, there are several ways you can design your pantry to impress guests, while also improving the utility of your kitchen. Glass-front cabinets, for example, are a great way to display your fine china or other attractive serving pieces. If you want a classic look for your pantry, going with an all-white color scheme is a great choice. Or, for a modern appearance, you can load your pantry with stainless steel.
One important thing to remember when designing your pantry is that its style should complement your kitchen. Although they don't need to look identical, the look of your new pantry should blend into your kitchen. So, for example, you could use the same flooring in your pantry as in your kitchen to create a seamless transition between the two spaces.
Which Materials Should You Use?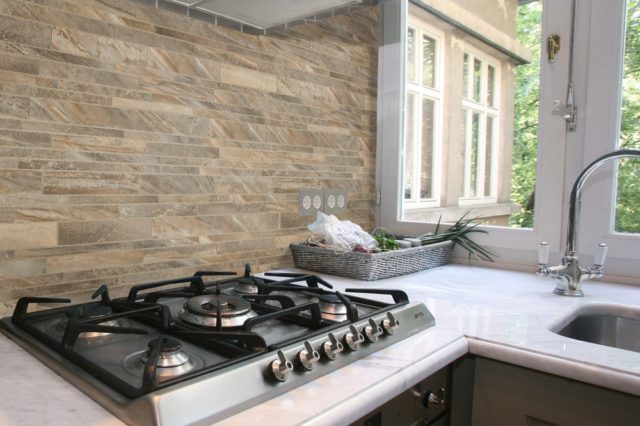 The materials that you use in your pantry are just as important as how you design this storage/serving area. When it comes to flooring, as mentioned, you should use the same material as in your kitchen, but that's where the similarities between these two rooms can end.
You want to give your pantry its own unique feel, so when you're selecting materials for the backsplash or cabinets, try to go a different way than what you've chosen for the kitchen. For example, if you have painted cabinets in your kitchen, go for natural wood in your pantry to distinguish these two areas.
As in most rooms of your home, your main goal when choosing materials for your butler's pantry should be finding a combination of durability, style, and low maintenance. Butcher block countertops are a superb option for most butler's pantries if you're looking for these qualities. Quartz is another great option, as it is resistant to both staining and scratching and can be ordered in colors to mimic other materials such as limestone and granite.
---
---