What Kind of Kitchen Sink Style Should I Buy?
Reading Time:
5
minutes
When you think about the objects inside your home, few work as hard as your kitchen sink. It's where you and your family wash up for dinner. It's where you rinse vegetables and thaw a roast. It's also where you stack the dishes while your dinner conversation spills well into the evening. As far as appliances go, your kitchen sink is a workhorse. You depend on it for several important daily tasks, so you'll want to choose a type of sink style that matches your lifestyle and personal tastes.
So, what types of sinks are there?
There's No Steel Like Stainless
You can easily understand why stainless steel sinks are one of the most popular sink types. Stainless steel resists heat and most stains. If you're on a tight budget, the stainless sink style may be the sink type for you, as you won't lack for reasonably priced models. In addition, these sinks are available in different configurations, from single bowls to double- and triple-bowl versions.
Want to love your stainless steel sink for years to come? Stay away from a mirror finish, which tends to show spots where water has dried. Instead, opt for a satin or brushed finish, both of which are less likely to show nicks and spots.
Love the Look of Porcelain
Porcelain enamel on cast iron or steel gives you a sink with a smooth, glossy finish at a reasonable price tag. For a style bonus, these sinks come in a variety of colors. For a time bonus, cleaning them is simple. With many advantages to this type of sink style, you may think that porcelain enamel is tops. But consider the following drawbacks to porcelain enamel.
Although a hot pan won't damage the finish, dropping a pot in one of these sinks may chip or crack the sink. Even a knife dropped into the basin may chip or nick the enamel. If you have kids in your home who help clear the table, you may want to think twice about whether a porcelain enamel sink can withstand the heavy use from your family. Small damaged areas on a sink can allow the metal underneath to rust, which compromises the sink's integrity.
Finally, porcelain sinks are available in affordable styles. Smaller sizes, single basins, and enamel-on-steel models are more budget-friendly options than larger, enamel-on-cast-iron styles. If you go with a cast iron version, make sure your cabinets are sturdy enough to support such a heavy basin.
Make a Statement With Copper
If you want a look you won't find in most home kitchens, choose a copper kitchen sink. These types of sinks tend to be more expensive than stainless and enamel-on-metal varieties, but you get a material that's antimicrobial and resistant to rust. This sink style will also give your kitchen a touch of rustic beauty.
When buying one of these basins, make sure the material is 99 percent high-quality copper. After installation, it's important to care for your sink properly. Be careful about the chemicals you place on the copper. Mild soap and water are ideal for cleaning; harsh chemicals can alter the sink's surface appearance.
Sink Into the Beauty of Quartz
Bad puns aside, quartz sinks are the perfect complement to quartz countertops. You may want to consider going with a lighter-colored quartz that has a busier pattern. This sink style is less likely to show scratches and other damage resulting from normal use.
Go Natural With Stone
Just as a quartz sink goes well with quartz countertops, stone sinks have plenty of visual appeal when paired with stone countertops. Stone sinks also have a beautiful, natural appearance.
The biggest consideration with stone is stain possibilities. If you choose a softer stone, such as soapstone, staining is more likely. Sinks may require sealants every few years to protect the stone from the effects of chemicals that pass through the basin.
Appreciate the Benefits of Composite
For those who like the look of stone but don't want the risk of stains, composite sinks are available. Many designers recommend these sinks for two reasons: durability and appearance. Unlike stainless steel models, these sinks don't show spots after water dries and scratches are nearly impossible to see.
Composite sinks comes in an array of neutral colors. Consider shades such as black, brown, or dark gray. These dark colors can hide stains so well that you may be tempted to skip a sink cleaning. When you consider costs, these sinks have a price in line with higher-end stainless steel models.
Choose the Faucet
When buying a new sink style, you need to choose a faucet to go with it. One of the most popular trends is to have a single nozzle that pulls out from its base. These faucets have a high-spray feature, allowing you to easily rinse debris from the sink. Other trends include faucets with built-in water filters and extra-tall necks to offer more clearance underneath the nozzle. Look for faucets with a stainless steel hose attached to them; these hoses are less likely to have troublesome kinks that interrupt water flow.
Choose a finish that matches or complements your sink. Satin or brushed nickel and chrome are popular choices that work well with different types of sinks. Don't forget about one additional consideration: If you have multiple basins, make sure the faucet has enough hosing to reach all areas of your sink.
Select the Mount
When considering mounts, the stand-by style is the self-rimming sink. This model attaches to counters with screws or clips. For some porcelain and stainless steel sinks, a steel rim may hold them in place.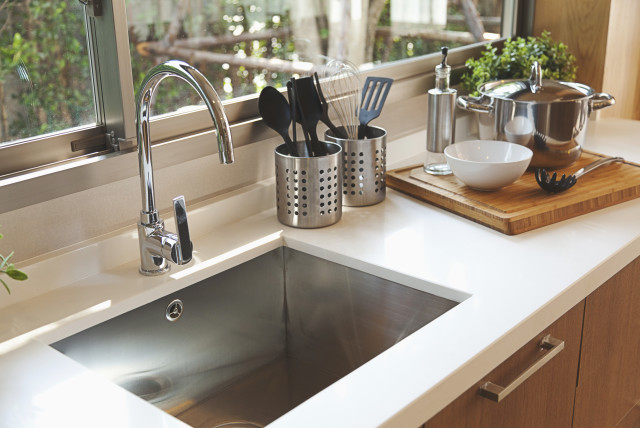 The trend now is to have an undermount sink. This mounting hides the rim of the sink underneath the counter. Without a rim, you can easily brush any crumbs left on the countertop directly into the sink. Although these sink style types are more challenging to install, they're worth the effort because of their neat appearance and convenience during cleanup.
One style that's gaining in popularity is the farmhouse sink. This large basin eliminates any cabinet barrier, putting you next to the sink. Farmhouse sinks are also deeper than traditional top-mount and undermount sinks. Farmhouse sinks are also especially practical if you have to wash large items such as large pots or extra-long skillets.
The Final Considerations
Make sure the size of the sink you choose accommodates the pots and pans you need to clean. Double bowls are convenient because they allow you to do separate tasks at once. However, these double-bowl types can limit your sink real estate, making cleaning larger trays and baking sheets challenging.
Don't forget to think about your preferred depth. Bowls range in size from 6 inches to a foot deep. While deeper bowls may do a better job of containing messes, the depth can be challenging for people who aren't tall enough to easily bend over to reach the bottom of the sink. Along these lines, keep in mind that undermount sinks are up to 1 1/2 inches lower than top-mounted sinks.
Before selecting a sink style, make sure you've considered all your style and design options. If properly cared for, most kitchen sinks will last between 10 to 15 years. Since the sink you choose will integrate into your daily life, choose the type of kitchen sink that's both practical and stylish so that you can appreciate its usefulness for years to come.
---
---