Winter Gardening: Starting Seeds Indoors For Spring
Starting seeds in a winter garden indoors can make your harvest much more plentiful. Here's how to start a garden inside without ruining the look of your home. 
***
Die-hard gardeners know that when the spring winds blow, it's already too late to get some plants started. By the time that last frost is truly history, there might not be enough time for seeds to germinate, grow and bear fruit (or veggies!) before the winter turns cold again. That's why in some climates, starting seeds indoors is a must.
But let's be honest: gardening is messy business, and taking it inside your house doesn't make it any less so. The last thing you want is soil or fertilizer ground into the floor, or all those seedlings taking up precious space throughout the house. Contrary to popular belief, keeping seedlings on window sills is actually bad for them: Windows are often the coldest places in the house at night and the hottest during the day, and those temperature swings can prevent seedlings from growing well, if at all.
There are some ways to keep your indoor garden as attractive as possible, as well as clean. Here's how.
Create a dedicated room
If you happen to have one room you don't use that often, especially during the late winter months, that's a great place to keep your seedlings. A guest room might work just fine, but a better bet is a sunroom or an enclosed porch.
Keep in mind that temperature is always an issue, so the room should be adequately heated. If you want to go all-out with your winter project, a pop-up greenhouse just outside your back door can be a good option, as long as you pay close attention to the temperatures.
Invest in shelves and lights
Don't have a dedicated room for your seedlings? No problem! You can turn any corner of any room into seedling central. Start with cheap bookcases with adjustable shelves. These cost between $20 and $200 each, depending upon the size you want. How do you choose the proper size? Start by measuring your lights.
Fluorescent lights will work just fine, or you can go with the more expensive 'grow lights' that are designed for the purpose. These will be hung by chains over the seedlings, so they must fit into the bookcases. Allow at least one inch on each side; for instance, for a grow light that is 28 inches long, you should have a bookcase that is at least 30 inches wide. You will also be adjusting the space between the lights and the seedlings as they grow, which is why your bookcases must have adjustable shelves.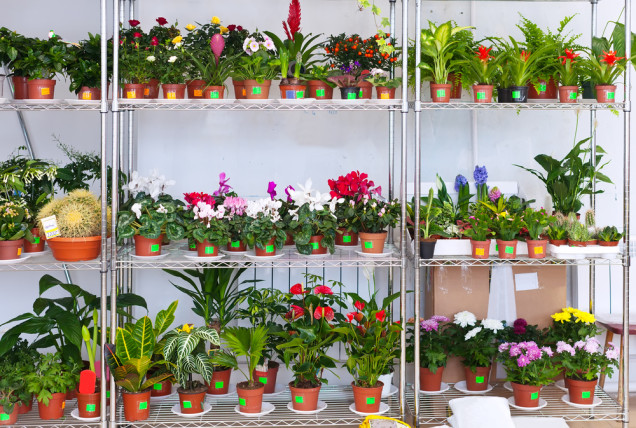 To keep things looking even more tidy and clean, use waterproof lining on the shelves, and position a sheet of vinyl flooring over the area where you will be working. You will also need a flat surface on which to work — a folding card table that slips out of sight behind one of the bookcases is perfect for this.
Choose your seedling containers
Sure, you can go for an expensive seed starter from the home improvement store, but why bother? Instead, make the most of what you use during the year. Cardboard boxes that hold pastas and cereals make perfect containers, as do paper cups. You can even use plastic containers, such as water bottles cut in half for creating your winter garden indoors. Just make sure that all of these containers have a small hole cut in the bottom to help the water drain out. You will also need a tray to set these in, one that fits the shelves, to capture all that extra water.
If you want to make the seedlings look gorgeous, so with the same type or color of container on each shelf. A pretty line of white paper cups can make your indoor garden look neat and clean.
Do your research
Having a pretty setup that fits right into the look of your home is a great way to start your garden in the dead of winter, but there are other points to consider, too. You need to know which seeds to start first (smaller seeds tend to need the most time), what temperature they need, how much water is appropriate, what type of planting medium to use, and so much more. Winter is the time to flip through seed catalogs, read up on plant necessities and start plotting how you will use the outdoor space.
By the time the frost is gone, you will have healthy, strong seedlings ready to take their proper place in the garden. When you start a winter garden indoors and early, you will have a harvest fit for a king well before the leaves fall.
---
---