Reading Time:
3
minutes
As a writer, I can't help but like a new decor trend showing up lately: signs and lettering. From door signs to quotes painted on walls, from custom vinyl lettering to nickel pieces, the lover of letters and words has many choices to express herself through home décor.
Why decorate with words?
Although design is a language, words still have the power to move and intrigue us, and a well-placed quote can totally change the ambiance of a room.
Humans have been naming and identifying things since the beginning of spoken language. Why not do the same to your home through signs and lettering? It doesn't have to be boring (putting "KITCHEN" in the kitchen is a bit obvious, don't you think?) and it can actually a nice outlet for creativity.
I like the idea of decorating with words because words can express a lot with very few of them. A quote, a sentence, a line of poetry can bring up many different thoughts and ideas. They make us reflect on the purpose of the room and of the time we spend there. They can make the experience of living more meaningful by bringing us back to the core of why we do things.
Here are some ideas gleaned from current signs and lettering trends.
Wall and door signs
Wall and door signs are neat because the possibilities are endless. Because they can be moved and removed, there's no risk of regret (try that with painting!).
You can always go and buy signs at the home decor store, but it's more fun to make your own with materials you already have at hand. Start with a light wood or plastic base, and paint or cover in fabric for the background. Use an old frame or make your own with pieces of wood, shells or rocks.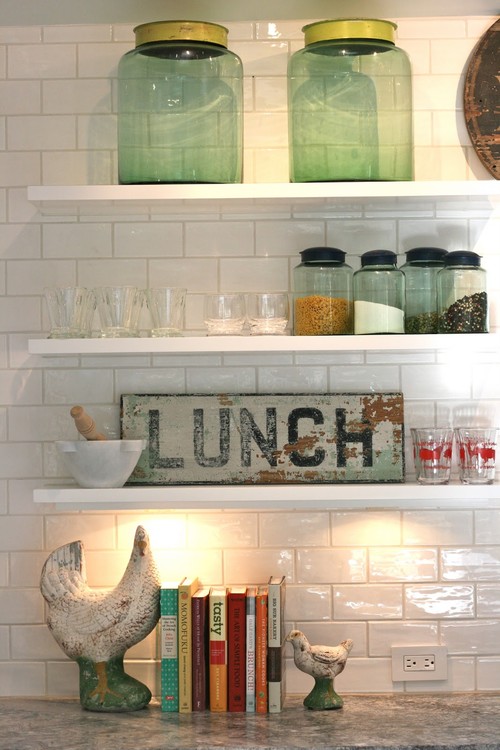 Handwritten signs are neat because they are personal, but you can always design and print your sign if you have a knack for design.
Door signs are useful for identifying children's rooms; it gives them a sense of ownership and privacy. I think funny quotes or sayings fit well in the bathroom because of its prosaic purpose; it's always nice to have something to laugh at when you… do your business. Quotes about living well can be featured in the kitchen. The living room is a great spot to put a favourite line from a movie or book. However, because of the limited space of a sign or poster, you need to keep it short.
Wall and door signs can express parts of your personality that are difficult to translate into just visual elements like colors, textures and accessories.
Lettering
Wall and door signs are a great way to express your tastes and personality, but they can sometimes be bulky (and we're not even speaking about the holes in the wall). If you like a sleeker, more discreet look, vinyl or painted lettering works great.
The advantage of this type of lettering is that you can have longer quotes because the entire wall is your canvas. The creative possibilities are a bit more limited because you can only choose the font and color. However, for lovers of minimalism or those who aren't too DIY-inclined, this is the perfect solution.
Obviously, the vinyl is the safest (if more expensive) choice: it can be stuck to the wall and removed at will without damaging the paint. Vinyl lettering comes in a surprisingly wide variety of fonts, colors and styles; it can be combined with other vinyl wall decorations. It's the quick and easy solution for an effective lettering decor element.
More adventurous and creative people might like to paint their own words on the walls: that's a great idea too. It's just not for everyone. It's perfect for a DIY project. Make your own stencils (easier to control the look of the letters) and paint them on your walls. This might take more time and effort, but you get a truly original, truly "you" decor element that nobody else can replicate!
The last word
If you're the non-committal type, here's another option for you: the good old chalkboard. Not just for children and classrooms, chalkboards have this nice French café effect that's perfect for a kitchen. Express yourself with a "quote of the day" or announce tonight's menu to your family. Get a nice pack of colored chalk and let your imagination run wild!
Words are amazing because they connect people. We've connected with authors and writers with their words for centuries, and they've connected to us by expressing hidden longings and realities of human life. You can deepen your connection to your home and your family by using beautiful, thoughtful, funny words all around it.
How do you use words in your home? Do you like the idea of quotes as home decor? Share your thoughts with us!
---
---