Sonora Floors Adirondack
Limited / Cider Mill / European Oak / Standard / 6 / UV Lacquered
Sold by: BuildDirect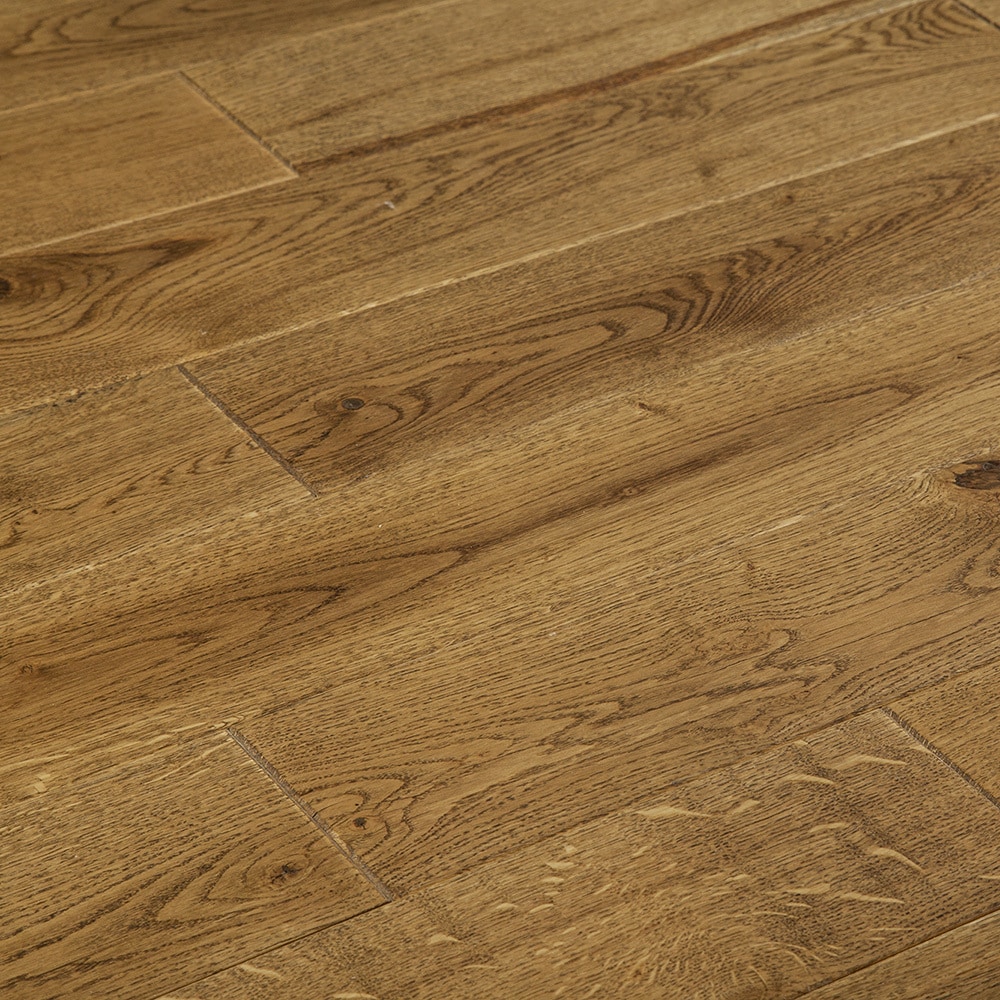 Complete your project:

Underlayment

Molding

Adhesives

Care Products
On Sale
USD $4.97/sq ft
Sale ends on September 27, 2021 PST
In Stock
18,368 sq ft available
Other Styles:
Style:
Limited / Cider Mill
Coverage:
sq ft
Enter your coverage
Reminder: Have you calculated your waste factor?
Flexible Monthly Payments with
Learn More and See If You Qualify
30 Day Money Back Guarantee
This means you get 30 days to decide if the product is right for you.
Learn more
Product Overview
Our Nordic Frontier Oak Collection gives you the everlasting qualities of durable oak hardwood, while offering 21st century online technology, and capability in advanced logistics. Partnering with manufacturing experts, we're proud to offer a European oak product that we feel will perform impressively in both contemporary and classic spaces, while falling within your hardwood flooring budget. In accordance with these exceptional qualities of our oak hardwood, the Nordic Frontier Collection also offers:
Durability: This hardwood is suitable for residences and most commercial spaces.
Fantastic Price: With commodity price points around 20% below current standard grade oak, this product represents an affordable option for top quality hardwood.
Plank Dimensions: Thickness: ¾"; Width 6" ; Length (20" to 79", with an average length of 32")
Installation Method: This nail or staple indoor product can be installed above grade, and with tongue-and-groove edges, a tight installation is ensured.
Warranty, Installation & Other info
You will need Adobe® Reader to view documents. Download it from the
Adobe Web Site.
Shade
Medium/Neutral Shade
Finish Detail
UV Lacquered
Manufacturer's Grade
Standard
Radiant Heat Compatible?
No
Recommended Waste Factor
5%- 10%
Product is Stained Or Tinted
Yes
Surface Finish
Wirebrushed
Residential Warranty (in years)
25
Commercial Warranty (in years)
2
Finish Warranty (in years)
25
Structural Warranty (in years)
Lifetime
Packaging Dimensions (inches)
Height: 5 Length: 79 Width: 5.2
Proposition 65
Attention California Residents
Everything You Need To Complete Your Project!
Whether you're replacing flooring in one room of your home, completely renovating your kitchen or bathroom, or upgrading your outdoor space with a new deck, BuildDirect has everything you need to get your project done.
UltraSeal Underlayment - UltraSeal Underlayment / 100 Sq. Ft.
0.69 sq ft
Subtotal (USD): $69.00
ComboFoam Underlayment - ComboFoam Underlayment / 100 Sq. Ft.
0.39 sq ft
Subtotal (USD): $39.00
4200 Superior Moisture Block 4-in-1 Flooring Adhesive - 4200 Superior Moisture Block 4-in-1 Flooring Adhesive / 4 Gallon Pail
176.52 each
Subtotal (USD): $176.52
Wood Floor Repair Kit - Wood Floor Repair Kit / Solid Hardwood and Bamboo
147.56 kit
Subtotal (USD): $147.56
7700 4-in-1 Special Formula Flooring Adhesive - 7700 4-in-1 Special Formula Flooring Adhesive / 4 Gallon Pail
206.4 each
Subtotal (USD): $206.40