How does our Price Match Promise work?*
If you find a product somewhere else with a lower regular price, we will match that price*! We believe you deserve all the BuildDirect buying Benefits - at the most competitive prices.
1
The two listings MUST be the same/have identical product specifications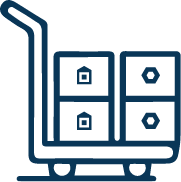 2
Both MUST be in stock and available for immediate sale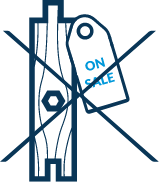 3
The competing price MUST exclude any promotions or discounts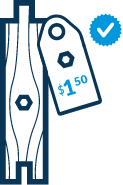 4
We MUST be able to verify the other retailers price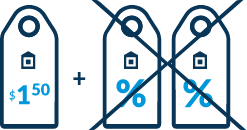 5
This promise cannot be combined with other BuildDirect promotions
*Additional Terms And Conditions Apply. See Full Terms Below
Terms and Conditions
Last updated Oct 1st, 2021
BuildDirect.com Technologies Inc. ("BuildDirect") strives to offer its customers consistently competitive prices so that BuildDirect customers can buy with confidence. BuildDirect is therefore please to offer to its customers ("customer", "you" or "your") the opportunity to participate in its price matching program (the "Price Match Program") subject to the following Price Match Terms:
Definitions:

For the purposes of the Price Match Terms:

"Product Specifications" means the product colour, dimensions (ie. length, width, thickness), composition, finish, surface finish, profile, edge type and installation type.

"Retailer" is defined as bona fide authorized seller of home improvement products in Canada or the United States expressly excluding, without limitation, wholesalers, third party sellers and/or marketplace sellers.

"Site" means www.builddirect.com

Subject to the Price Match Terms, in the event that the advertised price of a Retailer's product ("Retailer Product") is lower than the then current advertised price of a product sold on the Site with identical Product Specifications ("BuildDirect Product"), BuildDirect will, upon your written request (a "Price Match Request"), match the price for Retailer Product inclusivity of the shipping cost for the Retailer's Product.
As part of a Price Match Request, you must produce tangible proof of the Retailer's then current advertised price for the Retailer Product (including, but not necessarily limited to, a copy of the print or digital advertisement, date stamped Retailer Product display page, in store displayed price etc.). Before accepting a Price Match Request, BuildDirect reserves the right to (a) request, and you agree to provide, all other supporting information and documentation in relation to your Price Match Request as BuildDirect deems appropriate in its sole discretion acting reasonably and (b) take all reasonable and necessary steps in order to validate a Retailer Product price in relation to which a Price Match Request is made.
The subject Retailer Product and BuildDirect Product must be in stock and available for immediate sale in applicable quantities by BuildDirect and the Retailer at time of a Price Match Request. BuildDirect will not offer any "rain checks" or credits to you for a Price Match Request for any BuildDirect Product that is not in stock at the time of such Request.
The Price Match Program does not apply to sales tax on any BuildDirect Products.
Price Match Requests are limited to one per customer per day and each such Request only applies to purchases of BuildDirect Product the total cost of which (inclusive of product cost, shipping, handling and applicable taxes) does not exceed $10,000. A Price Match Request cannot be combined with any other BuildDirect offer including, without limitation, BuildDirect promo codes, store credits and/or BuildDirect Pro Rewards Program credits.
With respect to any Price Match Request, the following are expressly excluded:

Discounts applied to Retailer Products in checkout and/or discounts that apply to multiple Retailer Products at a time such that it is not reasonably possible to assign such discount to a particular item;
Retailer Products advertised for sale with a percentage off or dollar off discount (ie. 10% off or $10 dollars off);
Retailer Products prices based on bundled offers, rebates, credits, coupons, bonus, free, mail-in offers;
Retailer Product prices that required a minimum quantity to purchase;
Prices on Retailer Products that are seasonal, damaged, discontinued, obsolete, used, open box or re-conditioned or refurbished;
Retailer and/or BuildDirect Product pricing errors;
Retailer Product prices based on Retailer bids or auction site pricing;
Custom or special order Retailer or BuildDirect Products;
Volume or discounted pricing on Retailer Product and/or Retailer Product prices based on clearance, close-out sale, liquidation, flash, "door crasher", limited quantity or special offer sales (including, without limitation, Black Friday, Cyber Monday and Boxing Day/Week sales);
Retailer Product pricing based on credit terms and/or financing offers;
Membership, employee, military, senior citizen, or wholesale pricing on Retailer Products; and
Prices for professional services provided by the Retailer, BuildDirect or their respective affiliates or third party services providers (including but not limited to labour, assembly or installation services);

General:

By submitting a Price Match Request, you signify your acceptance of and agreement to be bound by the Price Match Terms.

BuildDirect reserves the right, without liability of any kind or nature, to change, modify and/or eliminate any of the terms and conditions of the Price Match Program (or incorporated policies or terms) at any time and in its sole discretion. Any changes or modification will be effective upon posting of the revisions to the Site. Your continued participation in the Program following the posting of any changes or modifications to Price Match Terms will constitute your acceptance of such changes or modifications. You should review the Price Match Terms before submitting a Request.

You agree that BuildDirect, in its sole discretion, may terminate or discontinue the Price Match Program and the corresponding Price Match Term for any reason and at any time without liability, including, without limitation, if BuildDirect determines, in its sole discretion, that you have violated or acted inconsistently with the Price Match Terms, the Terms of Sale or applicable laws or regulations. You agree that BuildDirect shall not be liable to you or any third party for any termination or restriction of the Price Match Terms.

Capitalized terms not otherwise defined in the Price Match Terms will have the meaning ascribed to them in the BuildDirect Terms of Sale (located at https://builddirect-store.myshopify.com/pages/terms-of-sale) (the "Terms of Sale"). In the event of any conflict or inconsistency between the Price Match Terms and the Terms of Sale, the Terms of Sale will govern. For clarity, and without limiting the foregoing, all disclaimers, limitations of liability, governing law and dispute resolution provisions which govern your Purchase pursuant to and in accordance with the Terms of Sale will continue to govern and apply to any to any Purchase in relation to which a Price Match Request is made.

The Price Match Terms, together with the Terms of Sale (located at https://builddirect-store.myshopify.com/pages/terms-of-sale) into which the Price Match Terms are incorporated, constitute the entire agreement between you and BuildDirect relating to the subject matter hereof, and supersedes any prior understandings or agreements (whether electronic, oral or written) regarding the Price Match Program, and may not be amended or modified except in writing by BuildDirect upon the posting of such amendments or modifications on the Site.