Vinyl Flooring Underlayment
You've got your gloves on, your paint covered overalls ready to go and your boots laced tight – you're almost ready for installing your own vinyl flooring. But before you can stand back and admire your new kitchen or bathroom floor, there's a thing or two you need to know about the installation process that will provide your floors with a smoother finish and more stable surface.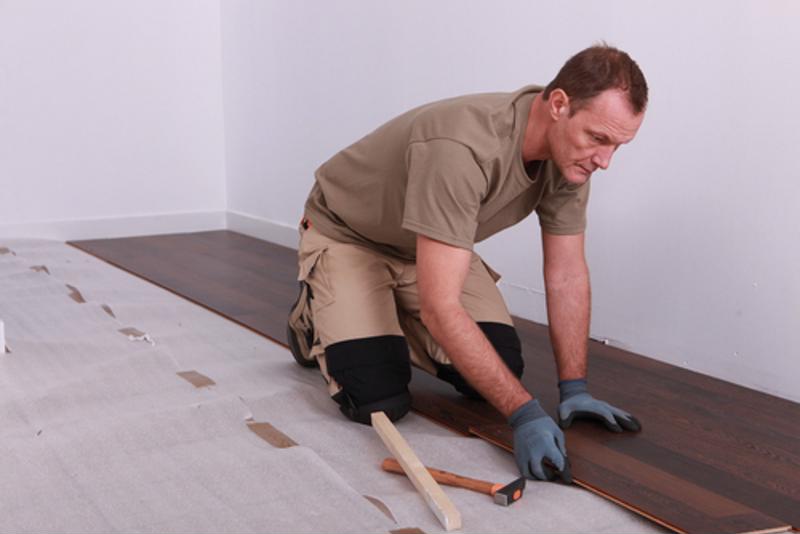 Flooring underlayment is essential for a range of surfaces, including many vinyl flooring options (please note thinner vinyl flooring styles aren't usually compatible with underlay). Absorbing the sounds of people walking over it and enhanced comfort underfoot are is just a couple of the advantages of having flooring underlayment. It will also do wonders for a flooring surface's longevity and durability. For anyone considering a DIY approach to vinyl flooring installation, here's what you need to know about underlay:
What is underlayment?
The installment of floors requires at least a few layers, sometimes as many as four. Here is a breakdown of the four primary layers that account for most floors:
Joists: The first layer, which is the wooden foundation underneath the floor.
Subfloor: Usually already intact; generally plywood, which provides support for everything.
Underlayment: Rolls of plywood, fiberboards or other rolls of material that serve as a buffer between the subfloor and the surface, improving stability.
Finish floor: The actual materials you see and walk on, such as tile or stone.
Essentially, underlayment is installed to make sure that any subtle mistakes or discrepancies made within the subfloor layer will not become an issue. Underlayment also plays a big role in the acoustic performance of your floor.
Why you need vinyl flooring underlayment
There are three primary reasons why vinyl flooring owners should have underlayment installed beneath the surface: To allow for a smoother exterior along the finish floor, to provide added stability and protection, and to enhance the acoustic capabilities of the floor. Installing underlayment is how you can add compression resistance to your floor, which will vastly reduce wear and tear after years of traffic in your house. It also helps guard against moisture. Finally, luxury vinyl flooring underlayment is the best way to get the most out of your floor acoustically, as sounds will be absorbed, minimizing the echoes of footsteps.

"Vinyl flooring underlayment is the best way to get the most out of your floor acoustically."
Does vinyl flooring need underlayment?
If you're trying to increase some height to your floor, then adding an underlayment under the finish floor can be useful. If you're unsure whether installing  underlayment for your vinyl flooring project  is truly necessary, then talk to knowledgeable BuildDirect product expert or a professional installer to see if your existing subfloor is already suitable enough to have the finish floor covering it.