Benefits
Real Wood Look

Waterproof

Warranty

Underpad Attached

0.5mm Wear Layer

Click Lock
The Ultimate Look
The Ultimate Collection delivers the most realistic wood look and texture with the added benefit of being 100% waterproof. Here's how:
Wider & Longer Planks
With 7.17" wide by 72" long planks, you'll see less seams to create a more natural-looking floor. The larger plank size also means each piece takes up more square footage than most other vinyl planks, simplifying and quickening the installation process.
Realistic Wood Look
Our in-register embossing technique creates indentations that perfectly align with the woodgrain image pattern, creating the look and texture of a real wood floor. Being vinyl – this floor provides superior protection against moisture, scratches and everyday wear & tear that a real wood floor can't deliver.
Wide Selection of Finish Options
Whatever your style – modern, traditional or anything in between – this floor will complement it. The Ultimate Collection comes in nine colors and patterns to match any room or décor scheme.
Close-Match Moldings
Although there's no such thing as 100% matched moldings (which probably wouldn't look real if it were) our trims are color-blended to complement your vinyl floor, creating a cohesive look.
The Ultimate Features
Here's why we're confident that our Ultimate Collection is the market's best luxury vinyl plank floor:
Superior 12mm Thickness
This floor is more than twice as thick as most quality LVP floors. The thicker flooring translates to better acoustics, insulating properties, impact resistance, deeper embossing, and better underfoot comfort.
It's also an ideal replacement for ceramic tile, hardwood, and other substantial floors with minimal adjustments to existing moldings and cabinetry.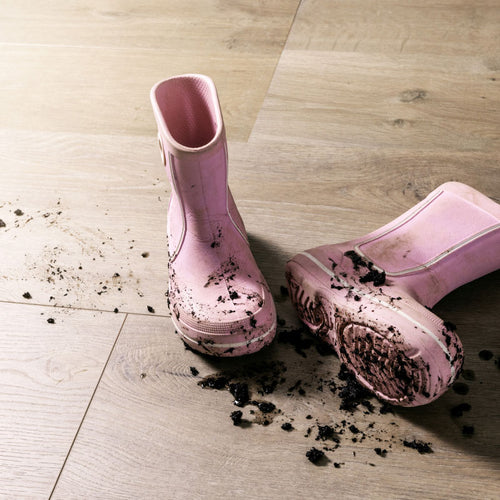 Wear & Tear Resiliency
With a 20 mil wear layer, stain resistant coating, and eco-friendly attached underpad - this floor delivers the perfect balance of beauty, comfort and protection from scratches, scuffs and spills.
100% Waterproof
Making this vinyl collection ideal for any rooms in your house where moisture can occur, including kitchens, bathrooms, basements and laundry rooms.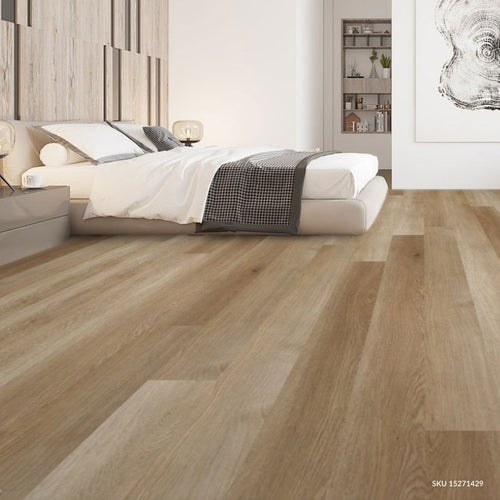 Added Protection
The Ultimate Collection features both a 25-year residential and 10-year light-commercial warranty.
Unbeatable Price
Our exclusive partnerships and distribution allows us to offer this incredible floor at more than 50% less than North America's largest flooring providers at our regular price.