Tungston Hardwood - Unfinished Hickory
Hickory / Select & Better / 3" / Unfinished
Sold by: BuildDirect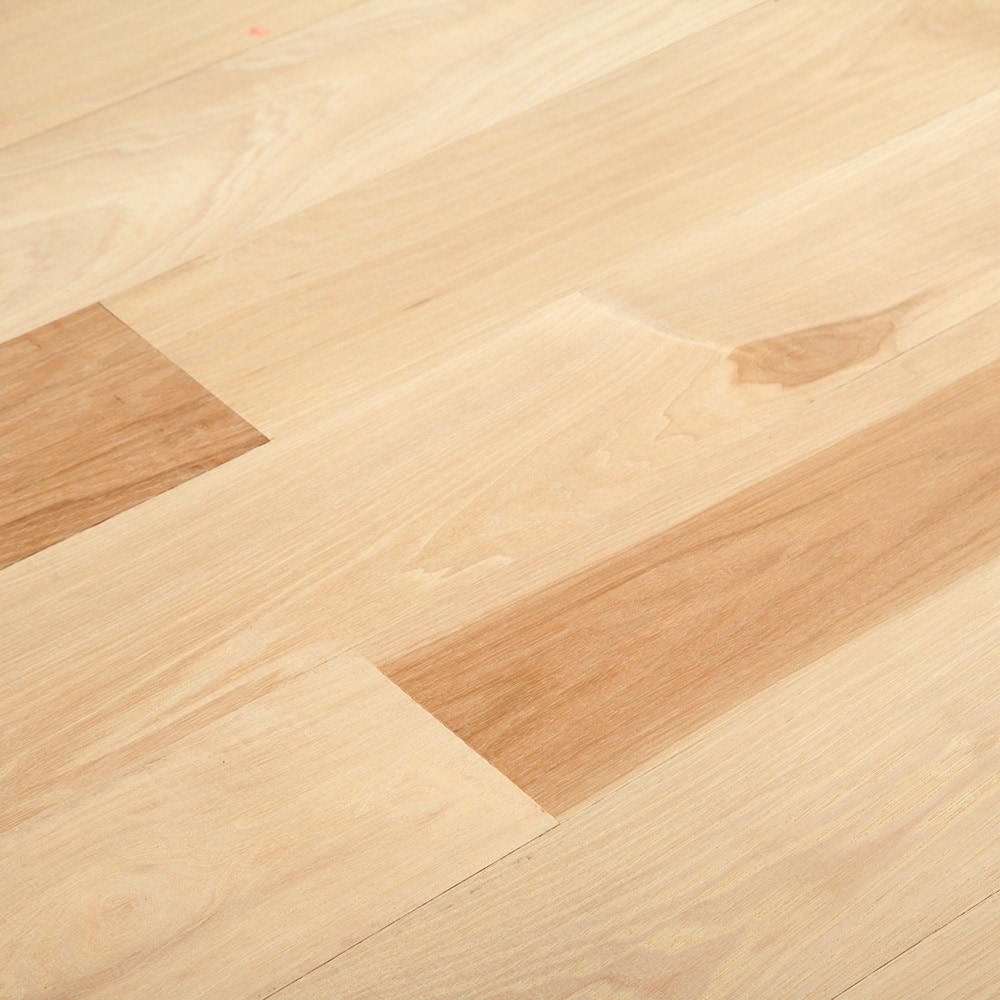 Complete your project:

Underlayment

Molding

Adhesives

Care Products
Coverage:
sq ft
Enter your coverage
Reminder: Have you calculated your waste factor?
Flexible Monthly Payments with
Learn More and See If You Qualify
Product Overview
Due to surging lumber demand, the quoted lead time is our best estimate. Additional delay is expected until raw material stabilizes.
Hickory is the hardest, heaviest and strongest American wood. The sapwood is white, tinged with inconspicuous fine brown lines, while the heartwood is pale to reddish-brown. There is a reason Hickory is often found at the long end of an axe.
REAL HARDWOOD: Made of Character, not plywood.
SUSTAINABLY HARVESTED: All of the hardwoods are harvested from local multi generational family farms.
CRAFTED IN TN, LIVED ON EVERYWHERE: There is a reason Jack's Whiskey is made in Tennessee and coveted the world over. It takes the finest hardwood to craft good whiskey and great plank floors.
LONG LENGTHS: Walking Horse Plank doesn't come in pieces like other flooring. It comes in planks. Long ones.
OUR FLOORS ARE PERMANENT: Don't live everyday on a replaceable floor. Our floors are solid unfinished hardwood meant to last for generations and continually be transformed to match the style of whichever generation is living on them.
Warranty, Installation & Other info
You will need Adobe® Reader to view documents. Download it from the
Adobe Web Site.
Shade
Medium/Neutral Shade
Manufacturer's Grade
Select
Radiant Heat Compatible?
No
Recommended Waste Factor
5% -10%
Product is Stained Or Tinted
No
Installation
Nail Down/Staple Down
Certification
SUSTAINABILITY VERIFICATION CERTIFICATE
Country of Origin
United States
Packaging Dimensions (inches)
Height: 5 Length: 120 Width: 5
Product Dimensions (in)
Height: 0.75 Length: 120 Width: 3.00
Proposition 65
Attention California Residents
By Jessica G., MA on Mar 30, 2017
By William K., CA on Feb 14, 2017
By Alex F., ON on Feb 02, 2017
Everything You Need To Complete Your Project!
Whether you're replacing flooring in one room of your home, completely renovating your kitchen or bathroom, or upgrading your outdoor space with a new deck, BuildDirect has everything you need to get your project done.
Wood Floor Repair Kit - Wood Floor Repair Kit / Solid Hardwood and Bamboo
147.56 kit
Subtotal (USD): $147.56
UltraSeal Underlayment - UltraSeal Underlayment / 100 Sq. Ft.
0.69 sq ft
Subtotal (USD): $69.00
ComboFoam Underlayment - ComboFoam Underlayment / 100 Sq. Ft.
0.39 sq ft
Subtotal (USD): $39.00